Debit cards offer a safe and convenient way to access your funds.
Free Contactless Mastercard® debit card accepted around the globe and online
Use your debit card to qualify for rewards with free Kasasa Cash® checking
Fast, free, and easy
Safer than carrying cash
More convenient and safer than checks
Eliminate cost of purchasing checks
24/7 access to funds via ATMs
Free digital wallet services available
Surcharge-free ATMs available
Lost or stolen debit card?
Please report it immediately.
Travel plans?
To help prevent interrupted service with your debit card or digital wallet, please notify us of the following:
Travel Plans
Change of Address
Change of Phone Number
If you have any questions, please contact us or visit us.
First Southern Bank provides an instant issue debit card service to our customers who want instant access to their money. Our customers have the option between to instant issue card types, standard or personalized.
Standard First Southern Bank Logo card - $10.00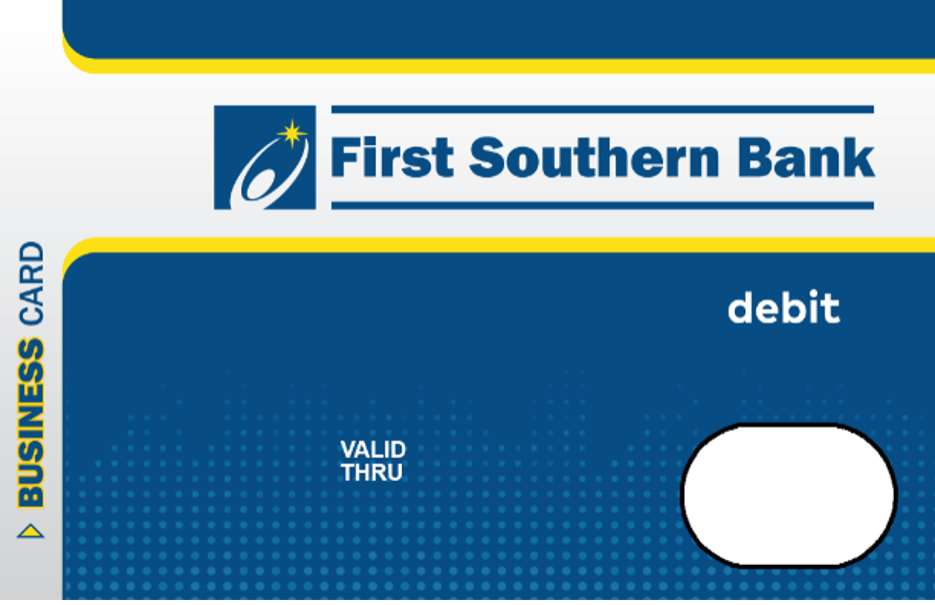 Personalized card - $15.00
Show off a photo of your children, grandchildren, pets, vacation destination, birthdays…the options are endless. If you cannot decide which photo, chose from a selection of 20+ stock photos available. Some image restrictions apply. See a Personal Banker for details.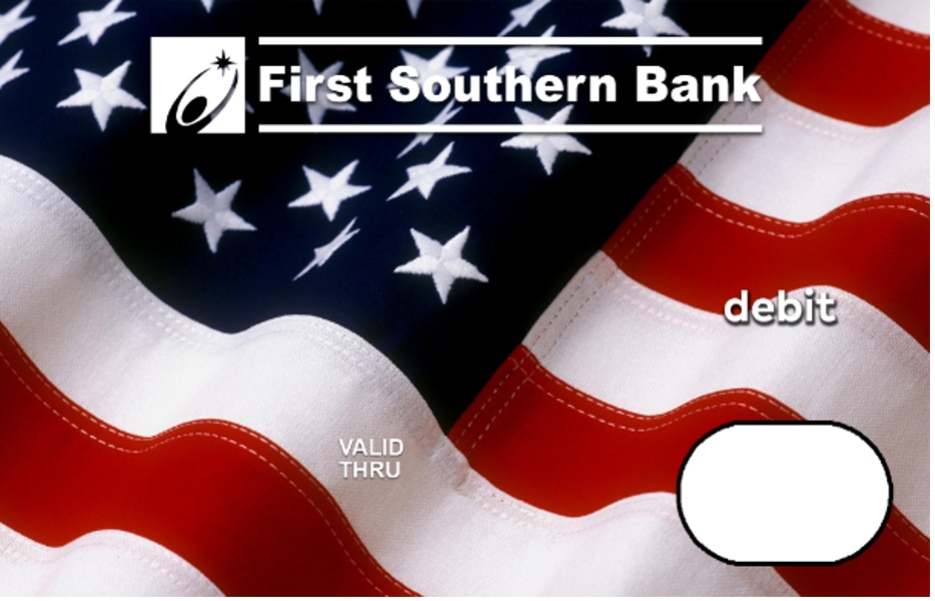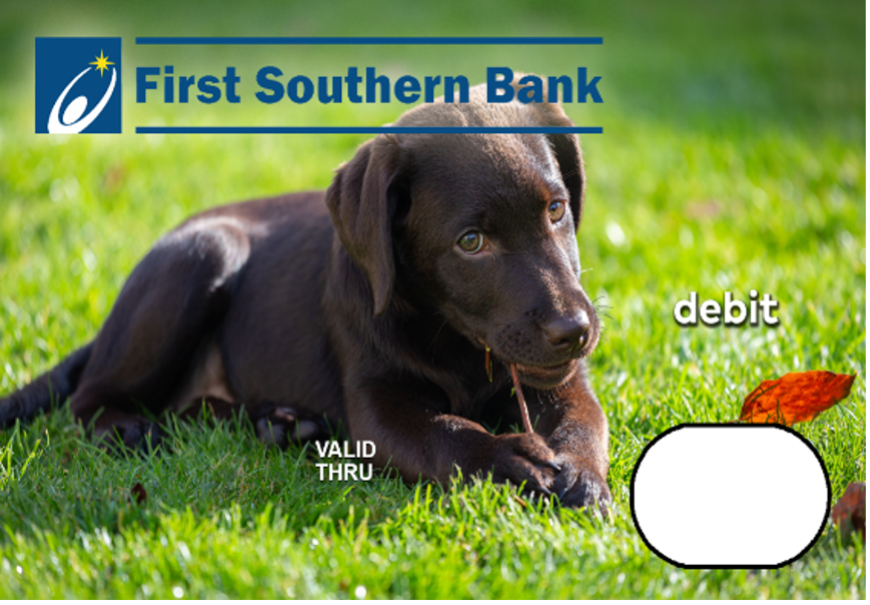 Please contact us or visit us for details.
Tap & Pay with Contactless Cards
Contactless cards have an EMV® chip enabled with both contact and contactless capability, plus a magnetic stripe. Contactless cards include the same security features as EMV contact cards. These cards can be dipped, tapped, or swiped at a terminal to perform a transaction.
Why should I use contactless?
It is like having exact change wherever you go, so you do not have to worry about carrying around cash or fishing for coins.
You are in control because your contactless-enabled card or device never leaves your hand at checkout, reducing the risk of loss or counterfeit, and each purchase is uniquely encrypted.
It is fast and ideal at places where speed is essential, like stadiums, concerts, fast food restaurants, gas stations, and more.
Where can I make contactless payments?

This contactless indicator displays acceptance. When featured on a card, it means the card can be used to tap and pay. When featured on a checkout terminal, it means a merchant accepts contactless payments.

This contactless symbol indicates where you tap your contactless card on the checkout terminal to make a payment. To make a purchase, simply tap your card, or smart phone within 1-2 inches of the contactless symbol located on the checkout terminal.
Keeping our customer's card information secure is a top priority at First Southern Bank and with chip technology that Mastercard® offers this reduces the risk of cards being copied or counterfeited.
Keep yourself and your card data protected while you're at an ATM or fuel pump with these simple STEPS:
Set alerts and blocks through the Brella™ app.
Tug the card reader. Is it loose?
Examine your surroundings.
Protect your PIN; cover it with your hand.
Scan for security tape seal on pump.
Here are some additional pieces of information that may help keep you safe:
Protect yourself.
Unless absolutely required for a legitimate business purpose, avoid giving out your:
Address and ZIP code
Phone number
Date of birth
Social Security number
Card or account number
Card expiration date
Your PIN is private — never give it out.
In stores and at ATMs, always cover your card and PIN, and watch for:
Cell phone cameras, mirrors, or other tools used to view cards and PINs
People watching your transactions
Cashiers taking your card out of sight; take it to the register yourself
Any unusual activity at ATMs; if you feel uncomfortable, go to another ATM
Online, you should never respond to unsolicited emails that:
Ask you to verify your card or account number; such emails are not sent by legitimate businesses
Link to websites; such sites can look legitimate but may collect data or put spyware on your computer.
ATM safety
Use an ATM in a well-lit area.
Prior to inserting your card:
Wiggle the card reader. If you notice something suspicious call 911.
Cover the PIN pad with your hand when entering your PIN to guard against hidden cameras.
Fuel pump safety
Use a pump closest to and facing the store.
Prior to inserting your card:
Wiggle the card reader. If you notice something suspicious call 911.
Check that security seal tape is intact. If seal is broke, let store know and pay inside.
Cover the PIN pad with your hand when entering your PIN to guard against hidden cameras.
Set security alerts for added safety and contact First Southern Bank whenever you have questions about your accounts or your financial safety.
Set your alerts and blocks through Brella. Download Brella for free from the Apple App Store, or Google Play.
Closely monitor your accounts and call your financial institution if you suspect fraud.
For more information, please contact us or visit us.
We may be calling you.
To protect your account, we monitor your ATM and debit card transactions for potentially fraudulent activity which may include a sudden change in locale (such as when a U.S. issued card is used unexpectedly overseas), a sudden string of costly purchases, or any pattern associated with new fraud trends around the world.
If we suspect fraudulent ATM or debit card use, we will be calling you to validate the legitimacy of your transactions. Your participation in responding to our call is critical to prevent potential risk and avoid restrictions we may place on the use of your card.
Our automated call will ask you to verify recent transaction activity on your card. You will be able to respond via your touchtone keypad. You will also be provided with a toll-free number to call should you have additional questions.
Our goal, quite simply, is to minimize your exposure to risk and the impact of any fraud. To ensure we can continue to reach you whenever potential fraud is detected, please keep us informed of your correct phone number and address at all times.
In the meantime, please be diligent in monitoring transaction activity on your account and contact us immediately if you identify any fraudulent transactions.
You may receive a text alert.
We partner with SHAZAM, our debit card processor, to implement a fraud management solution powered by FICO® Falcon® to help protect your debit card against fraudulent activity.

As part of our debit card protection program, we provide text alerts when we detect suspicious activity on your First Southern Bank debit card. If you receive a text alert, reply Yes or No to confirm or deny the activity. If you reply No (the activity is fraudulent), you'll quickly receive a follow up text to let you know that a SHAZAM fraud specialist will call you soon to help protect your account. We'll also automatically block your debit card to prevent any additional fraudulent activity.

If you reply Yes (the activity was legitimate), you can continue to use your debit card as normal. If you don't reply to the text, or your phone number is not a mobile number, we'll attempt to reach you via automated voice call.

Text message alerts from: 72718
Automated phone calls from: 855-219-5399

Make sure to save these numbers to your contacts so you don't miss any alerts. This added protection to your debit card is automatic and text message alerts are free. To ensure we can reach you promptly if fraudulent activity is suspected, we'll need to have your current contact information on file including phone number(s) and address. Please contact us if you have any changes in this information. We'll keep your information completely confidential.

If you have any questions, or ever see a suspicious transaction on your debit card, please contact your local branch. Always use caution when providing your debit card information and contact us immediately if you suspect your debit card has been stolen or compromised.
Important: We will never request card or account information via text, phone, or email.
Enjoy a new level of control with the free Brella™ app — and an added layer of protection against fraud.
Turn your card on and off, set alerts, and more. Download the free app for your Apple® or Android™ device now.
Once you have the app, get started with this handy guide (PDF)!
View account balances without having to login to the app with the Quick Balance feature
Set alerts for immediate notification for purchase more than a certain dollar amount, Internet and phone transactions, and transactions outside of the U.S.
Set how you want to receive alerts
Instant transaction control, block or unblock card
Submit Travel Notices
ATM Locator — find the nearest ATM or Privileged Status ATM*